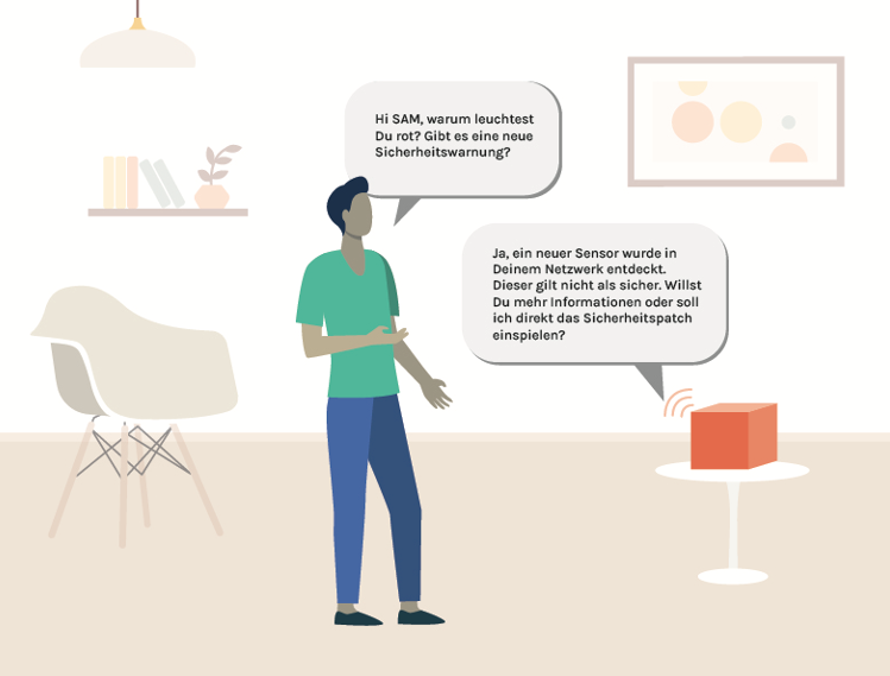 SAM Smart
SecurityAssistanceManager for the Smart Home
SAM Smart stands for "SicherheitsAssistenzManager" (Safety Assistance Manager), which is designed to assist consumers with "tedious" and "error-prone" safety tasks without restricting their autonomy. The final product should pro-actively warn of possible safety risks in an unobtrusive but clearly visible way - and interact with consumers in a natural way using speech. Its ultimate aim is to retrieve detailed, comprehensible information on the potential threat.

Im Rahmen des Projekts sollen dazu kostengünstige Sicherheitslösungen und automatisierte KI-basierte Korrekturmaßnahmen für qualitativ niederwertige Produkte für den Massenmarkt erforscht und entwickelt werden. Das Projekt setzt dazu auf ein Living Lab mit Privathaushalten sowie einem Smart Home-Testlabor, um Lösungsansätze erforschen und entwickeln zu können.

Fraunhofer FIT
Fraunhofer FIT creates human-centred solutions in the fields of digitalisation, Industry 4.0 and the Internet of Things. The Human-Centered Engineering & Design (HCED) department specialises in the optimisation of usability and user experiences associated with products and business processes.

contact
Dominik Pins

dominik.pins@fit.fraunhofer.de

Dennis Paul
dennis.paul@fit.fraunhofer.de


Universität zu Lübeck
The Medical Data Science group with the Institute of Medical Informatics researches activity recognition, neurological movement analysis, personalised nutrition, gait analysis, pain monitoring, sleep analysis, and analysis of biomedical image data.
contact
Prof. Dr.-Ing. habil. Marcin Grzegorzek
marcin.grzegorzek@uni-luebeck.de
Laura Liebenow
laura.liebenow@student.uni-luebeck.de

Universität zu Lübeck
The Institute for IT Security conducts research in the field of system security, code analysis and privacy-preserving machine learning.





contact
Esfandiar Mohammadi
esfandiar.mohammadi@uni-luebeck.de
Jan Wichelmann
j.wichelmann@uni-luebeck.de

Universität Siegen
The Chair of Information Systems, in particular IT Security, studies the digital transformation of society from the consumer's point of view. It pursues the goal of increasing digital sovereignty.



contact
Fatemeh Alizadeh

fatemeh.alizadeh@uni-siegen.de

Prof. Dr. Gunnar Stevens
gunnar.stevens@uni-siegen.de



open.INC GmbH
open.INC offers software for application-oriented data visualisation and customised solutions to digitise existing production and process environments.
contact
Nico Vitt
vitt@openinc.de

Langlauf Security Automation GmbH
Langlauf Security Automation GmbH is a technology supplier, tool manufacturer and implementation partner for the security analysis of software without source code.


contact
Jan Stijohann
hello@langlauf.io



nuspace GmbH
nuspace develops customised solutions for smart homes, smart buildings and the Internet of Things while offering matching services.



contact
Johannes Schmölz
johannes.schmoelz@nuspace.io



automITe-Engineering GmbH
automITe-Engineering GmbH specialises in professional services for IT security in the form of penetration tests, consulting for products, and IT infrastructures. The company further provides training for developers and employees.
contact
Moritz Krebbel
moritz.krebbel@automite.de
funding
Funded by the Federal Ministry of Education and Research
Funded by the European Union - NextGenerationEU